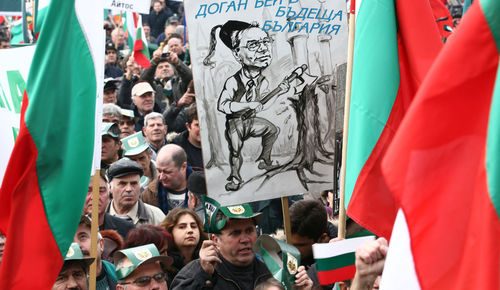 Open Society Institute Sofia Urges Cancellation of Elections over "Massive Irregularities"
Irregularities were registered in 44% of the voting stations at the October 23 presidential and local elections, said Alexey Pamporov, head of a research unit at the Open Society Institute in Sofia.
In an interview for the Bulgarian National Radio (BNR), he specified that the number of flaws recorded in Sofia was particularly high.
The researcher explained that the beginning of the election day was marked by numerous yet insignificant violations of election rules, but as the day progressed, the infringements grew scarce and serious.
"We started a parallel count at the end of the day. It was extremely difficult – we even suspected that some sections were deliberately dragging their feet. Our observers had to stay till 1 a.m in municipalities like Nesebar and Bansko. They started counting at 12 a.m, which is absurd," Pamprov argued.
He said that it was the first time when vote counting started three hours after the election day was declared over.
The researcher made it clear that no cases of controlled vote were registered by 4 p.m on Sunday.
"We can say that, given the number of polling stations monitored, the results were representative. By the end of the day, the controlled vote reached almost 13%," the representative of the Sofia-based think tank noted.
"We received a tip-off about a station where voting had taken place outside the ballot booth. Due to the fact that there were two lists of voters, some people were given local elections ballots despite their non-eligibility," Pamporov explained, insisting that all of these irregularities necessitated a cancellation of the vote.
He also said that a person who had been issued a penal ordinance was allowed to cast ballots.
Milcho Enchev from the Security Police Directorate at the Interior Ministry said that preliminary proceedings had been opened against 22 offenders and 19 had been arrested on various counts of election fraud.
In Enchev's words, the election day unfolded normally.
He specified that tension was at its peak in Sofia's municipal electoral commission, with Plovdiv, Varna and Burgas and other major cities experiencing similar pressure.
Sursa: Novinite.com
Vezi si: Bulgarian Presidential Favorite Faces Head-to-Head Battle
Bulgaria's center-right party candidate Rosen Plevneliev is set for a head-to-head battle for the presidency after failing to win a majority in first-round elections. However, he still looks likely to be the winner.
Deutsche Welle
Exit polls from Bulgaria's presidential elections on Sunday showed that, despite a clear lead for the ruling center-right GERB party candidate Rosen Plevneliev, the contest was set to head for a second round.
Plevneliev, a former construction minister, appeared to have garnered between 39.4 and 41.1 percent support according to exit polls.
His Socialist rival Ivaylo Kalfin was in second place with 26.7 to 30 percent of the vote, while Bulgaria's former European commissioner Meglena Kuneva,who ran as an independent, trailed in third place with 14 to 17 percent of the vote.
The failure of any of the candidates to secure an outright majority automatically sends the two top contenders on a second-round runoff on October 30.
"I did not expect such strong support," Plevneliev told Bulgarian television station bTV, while pledging to be a "deserving, independent and non-partisan" if he were elected head of state.
Analysts predicted that Plevneliev will win easily in the runoff, if official counts confirm a first-round lead of 10 percent. It is believed that the 47-year-old would have faced a far tougher election fight if Kuneva had reached the runoff.
Socialist President Georgy Parvanov was unable to run again after two successive terms in office.
A Plevneliev victory would smooth the way for the current government to proceed with efforts to introduce austerity cuts without damaging growth. Four years after joining the EU, monthly salaries in Bulgaria remain at around 700 leva (360 euros, 0) with unemployment in September standing at 9.4 percent.